As you may know, on January 1st 2000 the government introduced a directive that has meant that companies have to prove that they are getting rid of their packaging waste.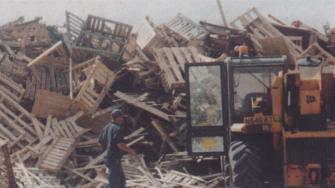 Spalding Recycling are able to take any wood waste you have whether it is in the form of pallets, posts, crates, solid timber, plywood or chipboard (no melamine coated). We are capable of handling between 100 and 200 tonnes of material waste per day and reducing it down to as little as 35mm using the BEAST 3860 - one of the few mobile shredders of its kind in the country. The shredded waste is then transported on for further reprocessing into chipboard for items such as kitchen tops, office furniture and flooring.

Having to keep a record of your packaging waste disposal is made simple by our weighbridge. We issue a detailed slip for you to keep. On site is a 50,000kg weighbridge for this very purpose. Please contact us for an initial discussion of your needs and our rates for taking in your wood waste.